Thank you very much for installing Ultimate File Manager. Thank you for your trust and choosing my software. I sincerely hope (and maybe even sure) that Ultimate File Manager serves you well in all tasks (from the simplest to the most complex). I hope, dear user, that you could have completed each task faster and better by focusing on doing your job, not the tool.
Ultimate File Manager (UFM) is an advanced File Manager (package that extends the functionality of File Manager) distributed with carefully selected and configured freeware applications. The project was born out of the need to create a tool that will make working on the computer easier. The tool, that will allow you to perform any task in a simple and thoughtful way. The tool, that will be consistent and modern. The tool, that will look how I want and do what I want. I hope it suits You as well. It is thanks to You that I have continued to develop this project, despite many obstacles. I learned a lot, spent thousands of hours to make it better.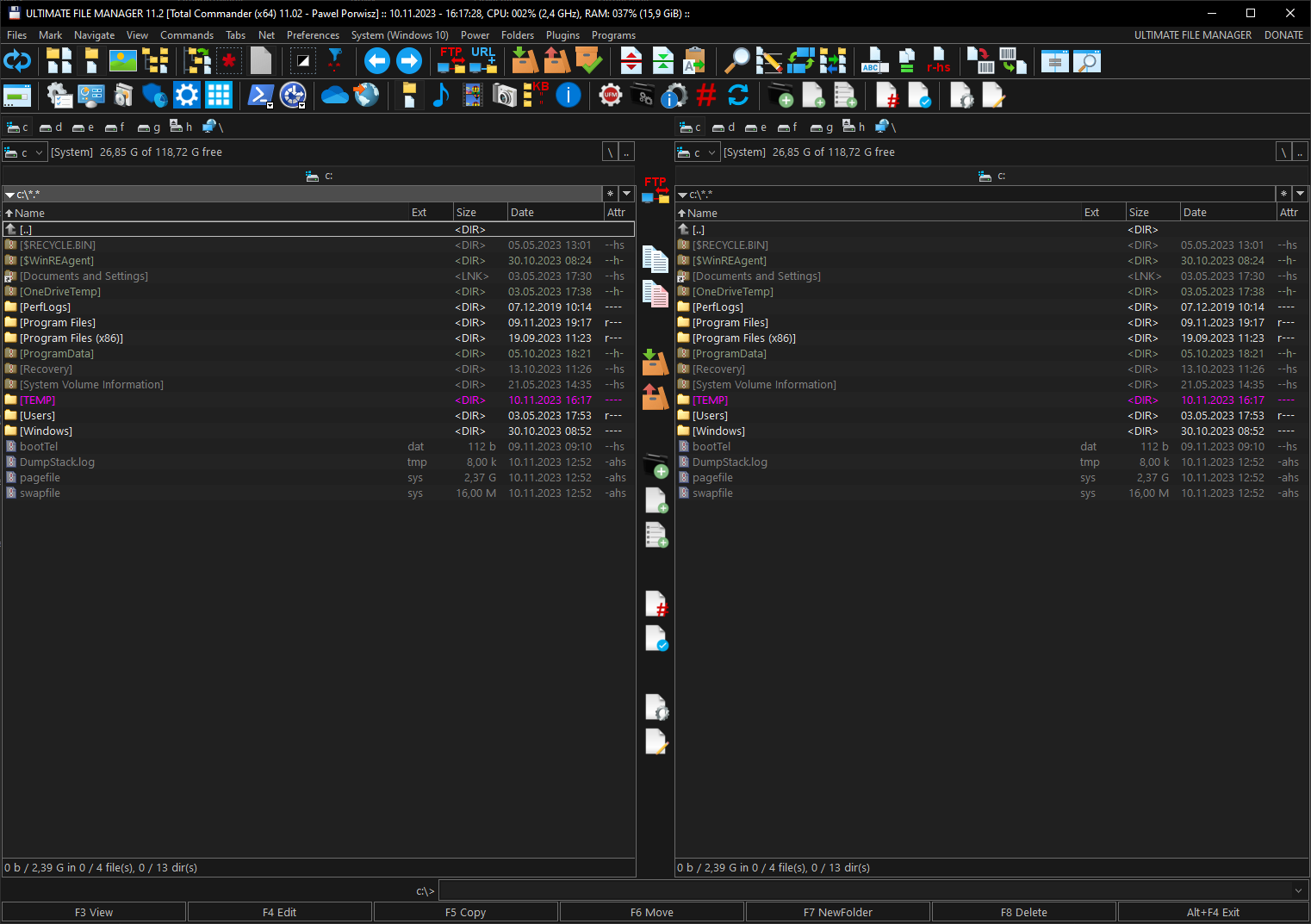 Ultimate File Manager 11.1 project brings some new features and bug fixes. The most important change is the update of Total Commander File Manager (which is the heart of Ultimate File Manager project) to the latest version - Total Commander 11.02. This version fixes many bugs. External applications have also been updated and some useful plugins have been added.
Latest version of Ultimate File Manager focuses on adding the ability to display an extended menu in the style of Norton Commander (ancestor of TC). This optional menu is characterized by the fact that the user has a special View menu divided into a Left menu and a Right menu, appropriate for each panel (this arrangement increases productivity and speed). A special (optional) old-school Norton Commander-style color scheme (blue) has also been added. These options are available in the UFM Settings application.
Potential issues with displaying file manager Color Schemes have also been corrected and the Dark Theme for the UFM application has been updated. The structure of the project's directories and configuration files has also been changed, which unfortunately forces the reinstallation of the installed UFM package (it is not possible to update it). Before installation, it is worth making a backup copy of the settings and restoring the appropriate files manually.
Total Commander file manager has been enriched with new DirectShow filters allowing you to enjoy video playback in Quick View mode (Ctrl+Q) - from now on you can also display subtitles for videos (Win10+). Existing LAV filters have been updated to the latest version. The CudaLister plugin (which allows you to view and edit many types of source files from popular programming languages) has also been updated. A new feature is the addition of the FsMega plug-in, which allows access to Mega file hosting (a website that provides its users with a data storage service within a virtual disk space).
CHANGELOG
ULTIMATE FILE MANAGER 11.2 [10.11.2023]
Total Commander File Manager Update
New: Optional oldschool Norton Commander Style Menu (Left, Right View Mode)
New: Total Commander Color Schema (Norton Commander Style)
Updated: Windows 10/11 Style for UFM (Dark Mode)
Updated: Total Commander Configuration Directories
Fixed: Loading Total Commander Colors Configuration Files (UFM Settings)


Updated: Total Commander 11.2.0.0 [Shareware]
Updated: Total Commander LAV Filters 0.78.0
Added: Total Commander xy-VSFilter + XySubFilter 3.2.0.803


Updated: AIMP 5.1.1.2436
Updated: Notepad++ 8.5.8.0
Updated: WinMerge 2.16.34.0
Updated: Audacity 3.4.1.0 (MEGAPack)
Updated: AutoHotKey 2.0.10.0 (MEGAPack)
Updated: HWiNFO 7.64.5240.0 (MEGAPack)
Updated: KeePass 2.55.0.0 (MEGAPack)
Updated: Krita 5.2.1.100 (MEGAPack, 64-Bit)
Updated: Magnifixer 14.0.8645.26624 (MEGAPack, 32-Bit)
Updated: MyPhoneExplorer 2.1.0.0 (MEGAPack, 32-Bit)
Updated: Resource Hacker 5.2.4.386 (MEGAPack, 32-Bit)
Updated: SumatraPDF 3.5.2.0 (MEGAPack)
Updated: TeamViewer 15.47.3.0 (MEGAPack)
Updated: VeraCrypt 1.26.7.0 (MEGAPack)
Updated: VLC 3.0.20.0 (MEGAPack)
Updated: XnViewMP 1.6.1.0 (MEGAPack)


Added: FsMega Plugin 1.6.0.0 (WFX Plugin)
Updated: CudaLister 1.8.2.0 (WLX Plugin)


Misc: Applications updates and bug fixes
Misc: Updated Internal Build Tools
Misc: Updated Language Files
Misc: Updated Online Help System
Misc: General Tweaks, Improvements and Optimizations
Ultimate File Manager (11.x line) brings many fundamental changes. The most important change is the destination of the installed files (normal installation only). Until now, all project files were installed to one directory, which by default was: C:\Program Files (x86)\UFM. The 'Program Files' directory is a system and protected directory (you cannot create or modify files in it without special permissions). Therefore, the UFM installer was modifying the access permissions to the installation target directory (necessary, but not optimal).
The current version brings changes. Normal mode installation is performed in the context of the current user. The project files have been separated into two directories, depending on their purpose.
Executable files directory (

%ProgramFiles%\UFM

)

BIN Directory - UFM project binary (exe) files
LIB Directory - UFM project library (dll) files
Executable files - UFM project internal applications files
Text files - license file, log file and directory settings file

User files directory (

%LocalAppData%\UFM

)

APPS Directory - UFM project external applications files
CACHE Directory - cache image files
LOG Directory - installatioin log files
MC Directory - Multi Commander file manager files
TC Directory - Total Commander file manager files
TEMPLATES Directory - UFM New Dir templates files
LANG Directory - UFM project language files
Configuration files - UFM installer and internal applications configuration files
By default, project execution files are installed in the C:\Program Files\UFM directory, and all other files that require data saving are installed in the user's local directory C:\Users\User_Name\AppData\Local\UFM.
Ultimate File Manager portable installation has not changed. All files are installed in one directory (the directory must have permission to write files). The default installation directory is C:\Users\User_Name\Desktop\UFM. Portable installation does not interfere with the operating system (does not create shortcuts, links, etc.).
Another very important change is the addition of support for the dark mode of UFM internal applications in Windows 11. The new style is consistent with the appearance of windows in the latest version of the system, which is slowly and steadily increasing its market share. The style is based on VCL Styles technology (different for UFM, MEGAPack version and uninstaller). The style for Windows 10 has also changed - it was created practically from scratch and unified with that for Windows 11.
Another significant change is the addition of information about running a program or file manager in Administrator mode. This information appears in window titlebar. In the case of the UFM package starter, the entire interface has been changed accordingly. The UFM package installer, which is always launched with administrator privileges, has been given a function thanks to which programs launched at the end of the installation (based on the selection on the final page of the installer) are launched in the context of a normal user (without administrator privileges).
Another very important change is the update of the UFM Shell Manager (most of the changes are not visible at first glance). This is an internal project application that allows you to run files in selected applications (so you do not need to use Windows file associations). Now you can easily add a new application (even from outside the UFM package) and manage the file types supported or associated with the application. The program works with the Windows shell library (so that the user can right-click in the Windows file explorer and open any file/directory in the file manager, via UFM Shell Manager). UFM Shell Manager now also supports running multiple files at once (user selects files in the file manager list and presses F3 (open mode) or F4 (edit mode)). It is now also possible to edit a file in FTP (Total Commander) mode.
In addition to the above-mentioned, many bugs have been fixed, and many minor changes have been made. The installation process has been simplified and redesigned. For the needs of the project, the system for building and managing the UFM project was expanded and redesigned (among other things, a new program was created to manage the project translation system).