Winamp was first released in 1997, when Justin Frankel and Dmitry Boldyrev, formerly students at the University of Utah, integrated their Windows user interface with the Advanced Multimedia Products ("AMP") MP3 file playback engine. The name Winamp (originally spelled WinAMP) was a portmanteau of "Windows" and "AMP".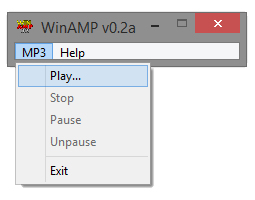 The minimalist WinAMP 0.20a was released as freeware on April 21, 1997. Its windowless, menu bar-only interface showed only play (open), stop, pause, and unpause functions. A file specified on the command line or dropped onto its icon would be played. MP3 decoding was performed by the AMP decoding engine developed by Advanced Multimedia Products co-founder Tomislav Uzelac, which was free for non-commercial use. It was compatible with Windows 95 and Windows NT 4.0. Winamp was the second real-time MP3 player for Windows, the first being WinPlay3.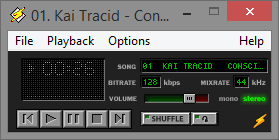 WinAMP 0.92 was released as a freeware in May 1997. Within the standard Windows frame and menu bar, it had the beginnings of the "classic" Winamp GUI: dark gray rectangle with silver 3D-effect transport buttons, a red/green volume slider, time displayed in a green LED font, with track name, MP3 bitrate, and "mixrate" in green. There was no position bar, and a blank space where the spectrum analyzer and waveform analyzer would later appear. Multiple files on the command line or dropped onto its icon were enqueued in the playlist.
Winamp 1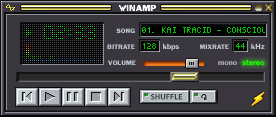 Version 1.006 was released June 7, 1997, renamed "Winamp", i.e., with "amp" now in lowercase. It showed a spectrum analyzer and color-changing volume slider, but no waveform display. The AMP non-commercial license was included in its help menu.
According to Tomislav Uzelac, Frankel licensed the AMP 0.7 engine June 1, 1997. Frankel formally founded Nullsoft Inc. in January 1998 and continued development of Winamp, which changed from freeware to $10 shareware. Despite the fact that there would be no extra features by paying $10, Winamp's popularity and warm reception brought Nullsoft $100,000 a month that year from $10 paper checks in the mail from paying users.
In March, Brian Litman, managing co-founder with Uzelac of Advanced Multimedia Products, which by then had been merged into PlayMedia Systems, sent a cease-and-desist letter to Nullsoft, claiming unlawful use of AMP. Nullsoft responded that they had replaced AMP with Nitrane, Nullsoft's proprietary decoder, but Playmedia disputed this. Third-party reviews found that Nitrane had bugs that resulted in playing back MP3s incorrectly, and that this resulted in unstable tones being added to the playback, and undoubtedly therefore violated the ISO standard. This also means that Nitrane was unlikely to have been based on the AMP software, and was more likely evidence of a hastily written MP3 decoder that didn't concern itself with standards compliance.
Version 1.90, released March 31, 1998, was the first release as a general-purpose audio player, and documented on the Winamp website as supporting plugins, of which it included two input plugins (MOD and MP3) and a visualization plugin. The installer for Version 1.91, released 18 days later, included wave, cdda, and Windows tray handling plugins, as well as the famous Wesley Willis inspired DEMO.MP3 file "Winamp, it really whips the llama's ass".
By July 1998, Winamp's various versions had been downloaded over three million times.
Winamp 2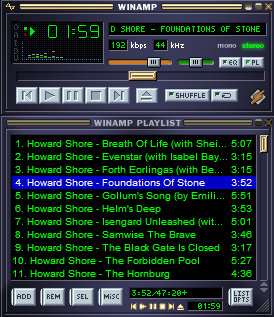 Winamp 2.0 was released on September 8, 1998. The new version improved the usability of the playlist, made the equalizer more accurate, and introduced more plug-ins. The playlist and equalizer windows now matched the player's skin and could be moved around and "docked" anywhere.
The 2.x versions were widely used and made Winamp one of the most downloaded pieces of software for Windows. By the end of 1998, there were already over 60 plugins and hundreds of skins made for the software.
PlayMedia filed a federal lawsuit against Nullsoft in March 1999. In May 1999, PlayMedia was granted an injunction by Federal Judge A. Howard Matz against distribution of Nitrane by Nullsoft, and the same month the lawsuit was settled out-of-court with licensing and confidentiality agreements. Soon after, Nullsoft switched to an ISO decoder from the Fraunhofer-Gesellschaft, the developers of the MP3 format.
Winamp 2.10, released March 24, 1999, included a new version of the "Llama" demo.mp3 featuring a musical sting and bleating.
Nullsoft was purchased by AOL in June 1999 for $80 million in stock, with Nullsoft becoming a subsidiary. AOL itself merged with Time Warner in 2000.
Nullsoft relaunched the Winamp-specific winamp.com in December 1999 to provide easier access to skins, plug-ins, streaming audio, song downloads, forums, and developer resources.
As of June 22, 2000, Winamp surpassed 25 million registrants.
A characteristic feature of the program is its speed and ease of use. It could be run even on weaker computers due to the low demand for processor power. Supported formats have been significantly expanded (almost all audio formats, and from version 2.9+ also video-based on system codecs).
Winamp version 2.x therefore had a built-in graphic equalizer (it is used to change the sound intensity value for individual frequencies, which allows for sound color correction), a built-in visualization system (including AVS-Advanced Visualization Studio), plug-in support (extending the player's capabilities) and of course the skin system, thanks to which you can change its appearance. Winamp 2.x uses skins, now known as classic, which are a graphic overlay consisting of specific graphic files in bmp format and text files in txt format (they can be packed in zip or all format).
Winamp 3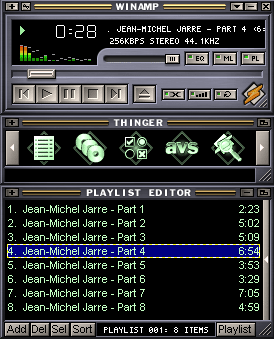 The next major Winamp version, Winamp3 (so spelled to include mp3 in the name and to mark its separation from the Winamp 2 codebase), was released on August 9, 2002. It was a complete rewrite of version 2, newly based on the Wasabi application framework, which offered additional functionality and flexibility. Winamp3 was developed parallel to Winamp 2, but "many users found it consumed too many system resources and was unstable (or even lacked some valued functionality, such as the ability to count or find the total duration of tracks in a playlist)". Winamp3 had no backward compatibility with Winamp 2 plugins, and the SHOUTcast sourcing plugin was not supported. No Winamp3 version of SHOUTcast was ever released.
In response to users reverting to Winamp 2, Nullsoft continued the development of Winamp 2 to versions 2.9 and 2.91 in 2003, even alluding to it humorously. The beta versions 2.92 and 2.95 were released with the inclusion of some of the functionality of the upcoming Winamp 5. During this period the Wasabi cross-platform application framework and skinnable GUI toolkit was derived from parts of the Winamp3 source code. For Linux, Nullsoft released an alpha version of Winamp3 on October 9, 2001, but has not updated it despite continued user interest.
Finally, it is worth emphasizing that despite the fact that the program did not catch on, it was a precursor of many interesting solutions that were used in subsequent editions of the program. It is especially worth paying attention to the new mechanism of skins - it allowed for the taking of any shape and size of the program and for any change of its colors (thanks to the mechanism of color schemes).
During this time Winamp faced stiff competition from Apple's iTunes.
Winamp 5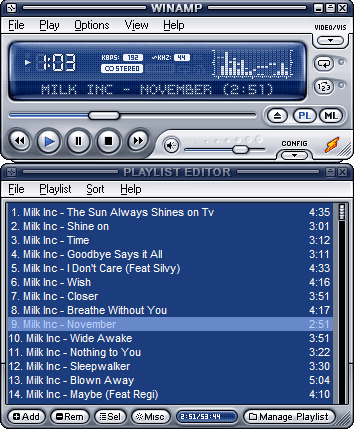 Winamp 5.0 was released in December 2003. Winamp 5 was based on the Winamp 2 codebase, but with Winamp3 features such as modern skins incorporated via a plugin, thus incorporating the main advantages of both products. Regarding the omission of a version 4, Nullsoft joked that "nobody wants to see a Winamp 4 skin" ("4 skin" being a pun on foreskin). It was also joked that "Winamp 5 is so good they skipped a number" and "Winamp 2+3=5,".
A blue themed "Modern" skin became the default interface. The media library was improved, CD burning and ripping was introduced, and other additions.
The original Nullsoft team quit in 2004. As of version 5.1, Winamp development is credited to Ben Allison (Benski) and Maksim Tyrtyshny.
From version 5.2 onwards, support for synchronizing with an iPod is built-in.
Most of the Wasabi code and its components were released as open source as the wasabi.player project (open source Winamp 3). Winamp 5 comes in two versions - Standard and Pro. The Standard version is free, while the Pro version is paid, offering in return a bit more functionality, i.e. faster ripping and burning from CD with encoding to mp3 format. The new Winamp has a built-in streaming radio and TV tuner, AOL (XM) radio, and the ability to subscribe and browse media via RSS (SHOUTcast Wire). Perhaps the most important thing was to make the new player compatible with older versions. Now, Winamp 5 can handle skins from version 1.x, 2.x, 2.9x, 3), and plugins from version 2.xx.
Winamp 5.5x
Winamp 5.5x is a milestone in the development of version 5. The most important change from the point of view of the Polish user is full support for language versions, including, of course, the Polish language version.

Winamp 5.5: The 10th Anniversary Edition was released on October 10, 2007, ten years after the first release of Winamp (a preview version had been released on September 10, 2007). New features to the player included album art support, improved localization support (with several officially localized Winamp releases, including German, Polish, Russian, and French), and a new default interface skin called "Bento" which unlike the previous skins is a unified player and media library in one window as opposed to a multi-window interface. This version dropped support for Windows 9x.
Winamp 5.6 was released in November 2010 and features Android Wi-Fi support and direct mouse wheel support. Fraunhofer AAC codec with VBR encoding support was implemented. Moreover, the option to write ratings to tags (for MP3, WMA/WMV, Ogg, and FLAC) was added. Hungarian and Indonesian installer translations and language packs were added.
With the release of Winamp version 5.66 on November 20, 2013, AOL announced that Winamp.com would shut down on December 20, 2013, and Winamp would cease to be offered for download after that date.
Five days later, version Winamp 5.666 was released with the "Pro" and "Full" installers being one and the same, in the process removing OpenCandy, Emusic, AOL Search, and AOL Toolbar from the installation bundle. This was announced to be the last release of Winamp from AOL/Nullsoft.
There was a Winamp 5.7 beta program for an invitation-based Winamp Cloud feature, which would let Winamp play a user's entire cloud-stored music library across all supported devices. This feature would have allowed AOL to provide a music locker service that would essentially compete with other online music lockers. The beta program was cancelled months before the announcement to shut down the Winamp project.
Acquisition by Radionomy
On November 20, 2013, AOL announced that on December 20, 2013, it would shut down Winamp.com, and the software would no longer be available for download, nor supported by the company after that date. The following day, an unofficial report surfaced that Microsoft was in talks with AOL to acquire Nullsoft. Despite AOL's announcement, the Winamp site was not shut down as planned, and on January 14, 2014, it was officially announced that Belgian online radio aggregator Radionomy had bought the Nullsoft brand, which includes Winamp and SHOUTcast. No financial details were publicly announced. However, TechCrunch has reported that the sale of Winamp and Shoutcast is worth between $5 and $10 million, with AOL taking a 12% stake (a financial, not strategic, investment) in Radionomy in the process.
Radionomy relaunched the Winamp website and it was available for download again. Despite the website claiming that Winamp will be returning soon, as of 2021 no new stable version has been developed since version 5.666 from November 2013. In December 2015, Vivendi bought a majority stake in Radionomy. The first official version of Winamp since Radionomy's acquisition is version 5.8.
It was reported that Winamp 5.8 beta has been leaked to the web despite that the release date of the build was on October 26, 2016. The leaked build is the first Winamp beta released under Radionomy's umbrella. There are many improvements and changes of the leaked build, including full compatibility with Windows 10 and Windows 8.1. This version also replaced functions originally locked behind Winamp Pro with free alternatives.
Following the leak, Radionomy decided to officially release a revised Winamp 5.8 on October 18, 2018. The newer update of Winamp 5.8 has a build number of 3660, compared to the October 2016 version's build number of 3563.
On October 15, 2018, Radionomy's CEO, Alexandre Saboundjian announced that a new version of Winamp – Winamp 6 – would be released in 2019. As of June 2021, there has been no release or further details about what this new version of Winamp will look like, including which services Winamp would support or how the new version of the app would integrate with newer music platforms such as Apple Music and Spotify.
In 2022 Winamp SA released Winamp 5.9. It was the culmination of 4 years' work since the 5.8 release. Two dev teams, and a pandemic-induced hiatus period inbetween. 2023 brought many changes. Winamp for Windows is still being maintained with bug fixes and minor changes being made. Versions for Android and macOS are no longer being developed. Current Winamp version is Winamp 5.9.2.10042
A service called Winamp Player is being actively developed. The developers of the new player claim that: "The new Winamp Player offers the best of everything, bringing your streaming services, podcasts, radio stations, audio books and downloads together. Enjoy all your music in one place, and customize your listening experience with the legendary Winamp Player."
Unfortunately, from the point of view of a classic Winamp user, this service is still worthless (a web player where you have to pay subscription fees for the content you listen to).
Winamp for Android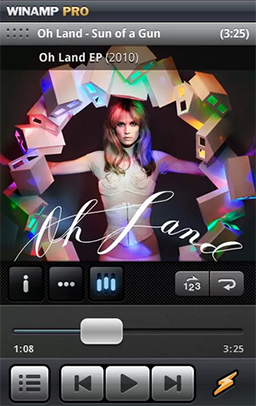 Winamp for Android is a mobile version for the Android (version 2.1) operating system. Winamp for Android was released in October 2010. Android is a trademark of Google Inc. Android is an operating system for mobile devices such as mobile phones, tablet PCs and netbooks. Android is developed by Google and is based on the Linux kernel and GNU software. Android was initially developed by Android Inc. company (bought by Google) and now it is under the care of Open Handset Alliance. Android brings together a large community of apps developers that extend device functionality. There are thousands of apps available for Android.
Winamp for Android™ is the best media player for Android. With Winamp for Android, you can easily play, manage and sync music from your Mac or PC to your Android device; offering users a complete music management solution (Android 2.1 or later is required). Other features include free wireless syncing (latest Winamp is required), one-click iTunes library import, free music, premium features and access to thousands of internet radio stations with SHOUTcast.
Winamp for Android™ is available in both Free and Professional (Pro) versions.
Winamp for Android - Free
Free Wireless Syncing
Now Syncs with Winamp for Mac Sync Beta
One-Click iTunes Library Import
Access to over 50 thousand of SHOUTcast radio stations
SHOUTcast Featured Stations
Persistent player controls
Easily collapsible/expandable Now Playing screen
Artist news, bios, photos & discographies
Extras Menu – Now Playing data interacts with other installed apps
Album art gesturing for track change
Free Music downloads with Spinner's MP3 of the Day
Free Music streaming with CDLP – on-demand streaming of popular album releases
Integrated Android Search & "Listen to" voice action
Browse by Artist, Album, Tracks or Genre
Playlists and playlist shortcuts
Play Queue Management
Widget Players (4x1 & 4x2)
Lock-Screen Player
Last.fm Scrobbling
Available in 14 Languages
Among the many functionalities, Winamp for Android application offers in particular the functionalities listed below.
Free wireless desktop syncing

Download the new Winamp for Mac Sync Beta or the Winamp Media Player for PCs to wirelessly sync to your desktop computer. Both desktop applications offer one-click iTunes library & playlist importing.

Persistent player controls

Intuitive interface that offers consistent access to player controls, the Winamp home screen & the play queue — a temporary track listing that you can easily manage, sort or save as a playlist.

Radio SHOUTcast

Extend your listening experience beyond your own library. Discover over 45,000 internet radio stations. Search or browse by featured stations, top stations, all genres or recently played.

Widget player & shortcuts

Add playlists or one of the widget players to the Android home screen. Enable playback control from the lock-screen.

Now playing

Displays song info, swipe-able album art & more. Tap to reveal additional features like artist bios, news, & photos. Integrates with other installed apps on your device (e.g. Pandora, YouTube and Last.fm).

Scrobbling

Supports Scrobbling with the Last.fm app installed. Capturing all of your mobile listening history in real time.
Winamp for Android - Pro
Winamp Pro Bundle offers additional features that allow you to control and customize your music experience (there are two ways to get Winamp Pro features. You can purchase the "Pro Bundle" using free version of Winamp for Android or you can purchase the "Winamp Pro" application directly. The "Winamp Pro" application is the key (license) that unlocks the professional features in the free version of Winamp for Android. If you have already purchased this application from the Google Play online store, both applications ("Winamp" and "Winamp Pro") must be installed. If, however, you have previously purchased the "Pro Bundle" version (via in-app payment), you do not need to purchase the Winamp Pro application.
10-Band Graphic Equalizer
Customizable Home Screen
Browse by Folders
Crossfade
Gapless Playback
Supports FLAC Playback (from Browse by Folders)
Replay Gain
Personalized Station Recommendations
Play Any Streaming Audio URL
No Ads!
Among the many functionalities, Winamp for Android Pro application offers in particular the functionalities listed below.
Graphic equalizer

Optimize how your audio sounds with the 10-band graphic EQ. Load a preset or adjust the settings to create your own.

Enriched audio

The native Winamp playback engine offers enriched audio playback including FLAC playback from the Browse by Folders navigation.

Customizable home screen

Move and rearrange the Winamp home screen button to fit your needs. Also add your favorite SHOUTcast station or playlist for quick playback.

Premium features

Enjoy seamless transitions between songs with Crossfade, minimize the silence between songs with Gapless playback & automatically level the volume between songs with Replay Gain.

Browse by folders

In addition to browsing your music by Genres, Songs, Albums, & Artists; you can now browse and manage playback directly from your system folders.

Extra shoutcast features

Play any streaming audio URL (supported formats only) by manually entering the station or file address. Get personalized station recommendations based off of your music library.
In 2014, Radionomy (online radio aggregator) acquired the Winamp media player and SHOUTcast technology. As a result, Winamp for Android™ is no longer being developed and is not officially available (removed from the Google Play store). However, you can still download the latest AOL version (free or Pro) from Download section.
Winamp for Mac Sync
In 1997 Nullsoft released MacAmp, an Apple Macintosh equivalent of Winamp. MacAmp is an early GUI-based MP3 audio player, first released on April 13, 1997 for the Macintosh by Dmitry Boldyrev of Nullsoft (and later Subband). Its MP3 decoding capability was based on the PlayMedia Systems AMP MPEG-2, Layers 1, 2 and 3 decoder.
By 1999, MacAmp was cited as a "premier MP3 player" and most popular such player for the Macintosh. In September 1999, a revamped version of MacAmp was released under the name "Macast"
Winamp for Mac Sync (beta) was introduced in October 2011. It was the first version of Winamp for the Apple platform and can be run on OS X 10.6 and above. The program focuses on synchronizing the Winamp library with the Winamp for Android application and iTunes music library. The program is still under development and is not finished yet.
macOS (previously Mac OS X and later OS X) is the current series of Unix-based graphical operating systems developed and marketed by Apple Inc. macOS is designed to run on Apple's Macintosh computers ("Macs"). It has been preinstalled on all Macs since 2002. Within the market of desktop, laptop and home computers, and by web usage, it is the second most widely used desktop OS after Microsoft Windows.
The goal of the Winamp for Mac Sync product (now in Beta) is to eventually evolve into a full featured media player. For now, application is very simple-it can sync library with iTunes, scan folders with music and create and manage playlists.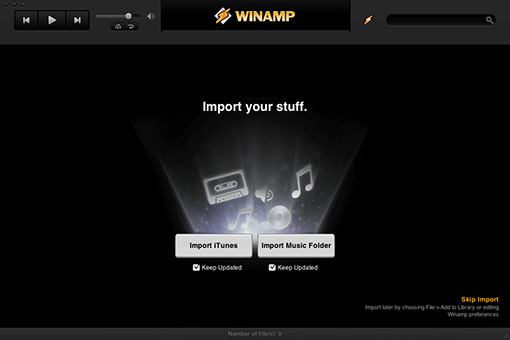 Winamp is designed to get you up and running quickly with one-click buttons to import your library from iTunes or from the Mac OS default music folder. If you select the "Keep Updated" option, Winamp will check for changes and add new tracks and playlists every time you restart the application. In the Preferences menu you can add specific folders to "watch" for music added to your Mac desktop, called "Watch Folders". Winamp also supports moving tracks and playlist from your phone to your Mac desktop and you can set the default transfer folder for that as well. All of these features make it really easy and powerful to keep your Winamp library in sync and up to date.
Winamp for Mac Sync provides a straightforward solution for syncing and transferring your music library to your phone. Connect your phone and your Mac desktop to the same WiFi network and you will see your device pop up under the "Devices" node in the nav (make sure you have enabled Wireless Sync in Winamp for Android). Click on the Device name and confirm the simple pairing request on your phone. You only need to do this once and then Winamp will always remember your device. You can set it up to sync your entire library or specific playlists.
Winamp for Mac Sync application offers the following functionalities.
Wireless and wired sync with an Android phone, requires Winamp for Android
One-click music and playlist import from iTunes and Mac desktop
Keep Winamp updated automatically with Watch Folders and iTunes library sync
Supports Mac OS X 10.6 and above
The features of Winamp for Mac can be categorized into four groups and these are – Desktop music player, Wireless Android Sync, Playlist management and iTunes and Mac Desktop Sync. Let's look at how these features work.
Desktop Music Player

Play all your local music and playlists in an intuitive Winamp look and feel with album artwork and the uniquely Winamp play queue.

Wireless Android Sync

No need to tie your Android phone down. Enable Wi-Fi sync and leave your cable behind. Requires Winamp for Android.

Playlist Management

Winamp imports and automatically syncs all of your playlists from your iTunes. Edit, create and sync those playlists with your Android handset.

iTunes and Mac Desktop Sync

Keep your Winamp library up to date with automatic sync between iTunes and Watch Folders you specify. Plus, Winamp lets you copy tracks from an your Android handsets to your Mac desktop.
In 2014, Radionomy (online radio aggregator) acquired the Winamp media player and SHOUTcast technology. As a result, Winamp for Mac Sync Beta is no longer being developed. However, you can still download the latest AOL version from Download section.
Winamp for Linux
Winamp 5 running on Linux using WINE
An early alpha preview of Winamp3 for desktop Linux was developed in October 9, 2001, but the project was not pursued. Nonetheless some versions of Winamp for Windows are functional using Wine.
Winamp for DOS (DOSamp)
DOSamp for DOS operating systems was released in 1997. The software was soon abandoned by Nullsoft to focus on the Windows version (Winamp).
DOSamp was probably the first MP3 player for DOS (l3dec was only a decoder). It was created by Justin Frankel. There is not much functionality. The program is called from the command line with the file name passed as parameter. At most the user can select downmixing and sampling rate output, and playback can be paused and resumed.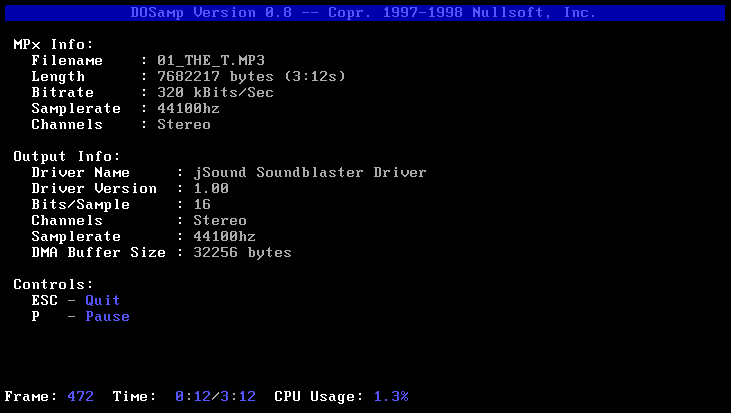 It uses PlayMedia's AMP decoding engine, therefore quality is not on par with accurate decoders (FhG, mpg123, MAD).